Dave Radford and Mike Potts
Dueling Pianos
When Dave Radford and Mike Potts came together for the first time in 2010, there was an instant musical chemistry. Dave had recently garnered himself a Top Ten Male Finalist position on American Idol, meanwhile Mike had spent the last few years touring the world as a professional musician on cruise ships. Now, both back in the Chicago suburbs, the timing seemed perfect to start what would be the next chapter of their musical careers.
Felix and Fingers originally started as a Jazz duo in Lake Geneva playing every weekend at the Baker House, a great environment for Dave and Mike to hone their skills and develop a working relationship. As the duo developed, so did the show.
Dueling pianos was the next step, and after setting up their first club date, F&F laid the ground work for the show they now perform today. As the bookings started coming in, the show grew, and within months had become a full time career. What was originally two guys with a couple keyboards had become a full professional sound system, lights, wireless mics, and even matching suits!
Currently F&F is one of the busiest bands in the Midwest and are booking events over a year in advance. And due to their versatility, they specialize in providing entertainment solutions for high end events, weddings, and corporate parties.
It's in the slogan: Dinner. Dancing. Dueling. Done
Dave Radford (Original Felix)
Singer/Songwriter Dave Radford was first introduced to vocal performance on the stage of his hometown High School in Crystal Lake, IL. Participating in everything from choir, marching band, jazz band, madrigals, and theatre, Dave quickly developed a passion for music and performance. At 17 years old, Radford appeared in 2006 as a Top 10 Male Finalist on the fifth season of American Idol, performing alongside artists such as Chris Daughtry, Kathryn McPhee, Kellie Pickler, and season-winner Taylor Hicks. His stay in Hollywood proved to be an exciting and rewarding experience that led to many new opportunities, one of which was song-writing. His first composition "Broken Pieces of Sky" was co-written with Chris Grant, now lead singer of the well-respected Dave Matthews tribute band "Tripp'n Billies", and debuted on his first album "Swing on By," produced by Emmy-nominated guitarist and producer Roger Adler. Radford later performed "Broken Pieces of Sky" live on Fox News Chicago's Good Day show as their musical guest. His album hit the airways for the first time during his radio interview segments at both STAR 105.5 and Y103.9 in Crystal Lake. After debuting his album with a big band performance at Raue Center for the performing arts, Radford decided to pursue his passion for music at the University Of Illinois School Of Music, where he completed a degree in Music Education.
Working hard over the past five years, Dave has succeeded in developing his own style and sound, filled with creative and insightful lyrics set to original and fast-paced melodies. Radford's recently completed self-titled EP shows off this unique style of writing that is aided by his rich and soulful voice. While Dave writes more contemporary music, his roots still lie in the Big Band era, which is why he still loves listening to and performing jazz standards. Currently, Radford performs live every week as singing both his own music as well as jazz standards as "Felix", and will be back in studio to record his next EP in the near future.
Mike Potts (Original Fingers)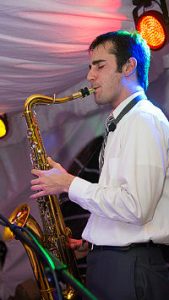 Mike Potts was born and raised in Crystal Lake Illinois, where he began piano lessons at age 4. Always having an affinity for jazz music, Mike picked up the clarinet in 5th grade, and then the Saxophone a year later. In high school, Mike's interests broadened to include singing and acting, where he eventually found himself a part of nearly every musical ensemble offered (aside from women's choir to his dismay).
After graduation, Mike went on to pursue a Jazz Performance Degree in Saxophone at Roosevelt University's Chicago College Of Performing Arts, where he was given his first taste of the professional music world. It was here that Mike learned flute and clarinet, honed his saxophone skills, and continued to pursue jazz piano. Mike Graduated with honors in 3 years.
Having a year off, Mike decided to work as a musician on cruise ships. What started as a 6 month contract paved the way for a total of 6 contracts, or three years of touring the world. In his travels, Mike visited 45 countries, learned a couple more instruments, and worked along side hundreds of professional entertainers, who would become his inspiration for seeking a career in entertainment himself.
Mike currently resides in Barrington Il, where he gigs regularly and runs his own online music studio.
Mike Sherman
Mike grew up in Cincinnati, OH and has been playing piano since he was eight and singing since he was eleven. He graduated from Loyola University in Chicago where he studied theatre and music. In addition to singing, acting, and playing piano, he was the lead trombone player in the Loyola University Jazz Band for four years.
He spent the first years of his professional life as a musical theatre actor and music director all over Chicago. He has sung several leading roles with the Gilbert and Sullivan Opera Company, including starring as Ko-Ko in their 50th Anniversary production of "The Mikado."
His musical theatre lifestyle was supported by his career as a special event and wedding planner, and he's happy to offer his advice to anyone out there! One day he decided that "part-time" performer wasn't enough, so he quit his job and has been entertaining America full-time ever since. He has an incredibly versatile voice and can sing anything from a classical aria to Frank Sinatra to Lady Gaga.
Greg Percifield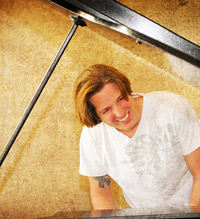 Greg Percifield's music background began at an early age. Bouncing back and forth between piano and guitar, it was not until he was faced with the decision of choosing a field of study that he found a true love for the piano, resulting in a Jazz Piano Performance degree from Columbia College in Chicago. During his college years, Greg was very involved with musical theater as well, serving as a musical director for several companies. Playbill Magazine had noted the success of Greg's musical direction and performances even when storylines had failed to impress. Greg also performed, wrote music, and served as a rehearsal pianist with cast members from Cameron Mackintosh's first national U.S. Tour of 'Miss Saigon.'
However, it was his involvement at Chicago's infamous "Jazz Showcase" that seemed to forge a unique path that would inspire and motivate him for years to come. As a bartender, Greg was able to spend a lot of personal time with many jazz legends. Greg spent one-on-one time talking about music and learning from jazz legends such as Tommy Flanagan, Joe Williams, Ray Brown, Diana Krall, and Bennie Green. This experience alone, provided an education that could not be found at any College or University.
Greg has since dedicated his time and passion striving to play great music while delivering a performance that is just right for any particular venue or crowd. His versatility has opened the doors to many opportunities. From background jazz to biker bars, weddings to corporate events, his performances meet and surpass all expectations!
Jim Gritschke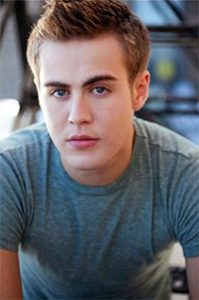 Having grown up in McHenry, IL, Jim's first spark of interest in music happened around 4 years old after seeing and being introduced to Jazz Piano legend, Jon Weber at the Four Seasons in Chicago. Armed with his mother's old keyboard, Jim had a bright future ahead of him. Singing has always been a big part of his life through school music programs and road trips with the family. It was at Prairie Ridge HS in Crystal Lake where Jim's love for music and performance was nurtured thanks to the inspiration from an extremely dedicated choir director and mentor. This was also when piano became a more serious study for him. Choir, madrigals, acting and Musical Theater were now the focus for this completely self-taught performer. After graduating high school and receiving high accolades in performance, Jim took a couple years and moved to Chicago to pursue a career in acting and voice over, while performing in local theater productions as well as playing Rocky from "Rocky Horror Show" at the Raue Center in Crystal Lake. After signing with 2 major talent agencies and after dozens and dozens of auditions, Jim had established himself in the Chicago scene.
Jim first connected with Mike Potts at the Raue center during Rocky Horror, which opened the door to his current position on the Felix and Fingers team. At just 21 years of age, Jim is the youngest F&F performer and an especially good fit for weddings and college events. And be sure to ask about his Louie Armstrong impersonation!
Jim is currently living in Skokie, IL and plays with F&F all over the Midwest.
Emily Henderson
Emily Henderson is a Chicago area musician who has been playing piano for 20 years and performing professionally for 5 years. She graduated from Millikin University in 2010 with a degree in Commercial Music, at which time she was awarded the Roger Schueler award there for excellence in jazz performance.
Other awards include 1st place, IMEA Composition Competition for Arrangement in 2006; 1st place, Batavia, IL's Art In Your Ear Songwriting Competition; multiple Outstanding Vocalist Awards throughout her college career at nationwide jazz festivals, and most recently Emily won the Singers on Stage competition in Woodridge, IL in August of 2013.
She has performed on such stages as Martyr's and the Elbo Room in Chicago, and was thrilled to play the IL State Fair in 2010 as part of a classic rock cover band out of central Illinois. She is excited to expand her horizons with Felix and Fingers, and is thrilled to bring her own style and personality to their already sterling reputation!